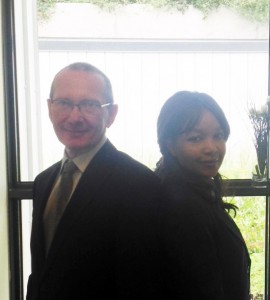 We are delighted to announce that we have a new office! Located in a neighbourhood undergoing the most remarkable renaissance in Toronto, we have joined a wonderful community at the Centre for Social Innovation, in the Daniels Spectrum Building in the heart of Regent Park. From this base, we will be providing legal expertise and support to purpose-driven  social enterprises, small to medium businesses and the residents, new and old, of Riverdale, Cabbagetown, Corktown and Regent Park.
Robert Labossiere is a member of the Law Society of Upper Canada and operates a general law practice. Robert has extensive experience with the non-profit and charities sector and is a social entrepreneur and business person himself. Robert shares office space at the Centre for Social Innovation with Emma Wanjiku, a licensed paralegal, who offers a full range of affordable representation before tribunals including Landlord and Tenant, Provincial and summary criminal matters, the Highway Traffic Act, etc.  Emma  brings to her work a depth of experience in the related field of human resources.
Emma and Robert came together because they love the neighbourhood and are excited about the renaissance that is under way. Building their social enterprises, they are intent on economizing, keeping their businesses footprints small by sharing costs while also being especially attentive to their clients needs, ensuring each and everyone gets the best possible service at the best price. Their shared vision is to increase accessibility to the justice system, and to contribute to community building by helping the people, organizations and businesses who are engaged in progressive social, economic and cultural change.
Photo session out takes